In the news this week there was an article about a mother who felt humiliated when she was shouted at by a cafe owner as she changed her baby son's nappy on the grass outside the premises.
After leaving a one-star review on the café's Facebook page about the incident, national debate ensued over whether the mother was in the wrong or not.
But she couldn't fit her buggy in the café's changing facilities. And she didn't want to leave her son in a soiled nappy.
What was she to do?
The café owner apparently said it was "disgusting" and "unhygienic".
And the story caught the media's attention.
It caught the attention of my friends and me too. Because we know this story too well.
Replace baby, with a child – or adult even.
Replace buggy with a wheelchair.
Replace a café with pretty much every café and, for that matter, public place you visit.
Replace media attention with none whatsoever. Because (excuse my language, this is a never-ending, weary battle for us) no one gives a flying fuck.
For my friends and me, who either care for children or adults, who wear nappies due to their disabilities, this is our everyday reality.
I can honestly say that I've lost count of the number of times I have changed my son Brody's nappy in our car boot. Trying to shield him from passers-by, some of whom almost tut at the fact that I'm doing it. Like I want to be doing it.
Where do they expect me to change him?
Surely not a baby changing table, which not only is too short for his body now, but can no longer safely, bear his weight?
Maybe they just expect me to just stay at home? Or leave quickly, without causing a fuss, and travel home with him in a soiled nappy.
Or perhaps they expect me to do what thousands of parents and carers do every day in the UK – go to the disabled toilet, shut the door, lay down my coat and change him on the toilet floor.
That way everyone can carry on as normal.
No one needs to know right? I mean people with disabilities, who are in nappies or can't transfer themselves on to a toilet – they're not anyone else's problem.
Out of sight, out of mind.
Who cares?
Some of the most vulnerable members of our society stripped of their dignity, being changed on filthy toilet floors or else stuck at home, unable to go out for fear of them needing the toilet.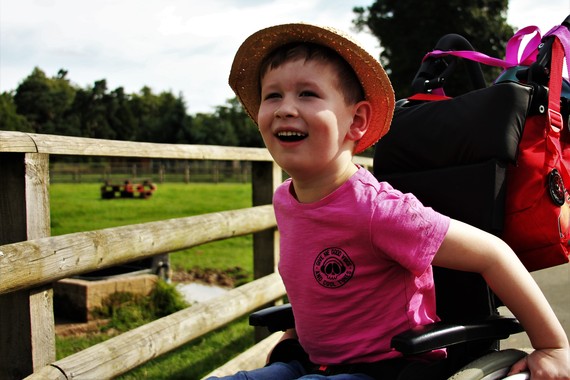 Who Cares Where I change Brody?
Is this really newsworthy?
Debate that.
Any takers?
No, that's right. They're not worth national debate.
Let's just continue to sweep it under the carpet Britain…
A changing places toilet in larger public buildings (shopping centres, airports, hospitals, etc) would solve this problem for thousands of people in the UK. Changing Places toilets consist of a larger room, an adult-sized changing bench and a hoist. You can find out more about Changing Places by visiting http://www.changing-places.org/ and whilst you're at it, if you don't mind, please sign this petition.